Press Release
Samsung Electronics to Demo QSound Labs' microQ™ at 3GSM World Congress
Cannes, France - February 14, 2005 - QSound Labs, Inc. (NASDAQ: QSND), a leading developer of audio and voice software solutions, today announced that Samsung Electronics' Semiconductor Business will be demonstrating QSound's microQ on the world's first 3G smartphone reference design based on the Linux operating system at the 3GSM World Congress to be held on 14th - 17th February in Cannes, France. With features such as video conferencing, 3D stereo and video streaming, the reference design is targeted for advanced multimedia 3GPP-compliant market.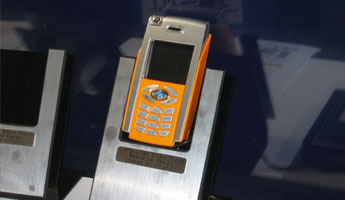 Samsung Electronics' Semiconductor Business and QSound Labs have respectively contributed to the smartphone reference design with the S3C24A0 mobile application processor and the microQ audio engine. The hardware platform is engineered for small form factor designs and comes complete in a compact slider case.
About microQ:
The microQ feature set is unmatched by any single vendor. It is a compact, hardware-independent and highly efficient software audio engine providing functions such as polyphonic ringtones, video game sounds, music playback, digital effects and recording for portable applications, including Internet appliances, hand-held and mobile devices. A low-cost and flexible option for consumer electronics and mobile device manufacturers, microQ is inherently modular, scalable and portable. Its core components include a digital audio playback engine, a wavetable synthesis engine with a scalable sample set, and a multi-channel stereo mixer. Additionally, microQ offers a wide range of processes to control frequency response, dynamics and spatial enhancements, as well as full 3D positional audio.
About QSound Labs, Inc.:
Since its inception in 1988, QSound Labs, Inc. has established itself as one of the world's leading audio technology companies. The company has developed proprietary audio solutions that include virtual surround sound, positional audio and stereo enhancement for the mobile devices, consumer electronics, PC/multimedia, and Internet markets. QSound Labs' cutting-edge audio technologies create rich 3D audio environments allowing consumers to enjoy stereo surround sound from two, four or up to 7.1 speaker systems. The company's customer and partner roster includes Broadcom, Qualcomm, Vodafone, Toshiba, Philips, MiTAC, E-TEN, Sharp and RealNetworks, among others. To hear 3D audio demos and learn more about QSound, visit our web site at http://www.qsound.com.
---
Related Article:
Forbes Magazine - February 18, 2005