Press Release
MiTAC Selects QSound Lab's microQ Technology to Deliver Next Generation, 3D Audio Capabilities for its Mobile Device Products
Audio Solutions Leader Scores Design Win Based on Microsoft Smartphone Using Intel XScale Processor; Newly Launched Mio 8390 Powered by microQ
Calgary, Alberta - February 19, 2004 -- QSound Labs, Inc. (NASDAQ: QSND), a leading developer of audio, voice and e-commerce software solutions, today announced it has signed a licensing agreement with MiTAC International Corporation, one of world's leading developers and manufacturers of state-of-the-art computing and handheld devices, and its newly formed mobile products division Mio Technology Corporation. Under the terms of the agreement, QSound is providing its microQ product suite to enable rich 3D audio capabilities for use in Mio Technology's DigiWalker(TM) line of next generation smartphones and pocket PCs, including the recently launched Mio 8390(TM).

A significant design win for QSound Labs, the Mio 8390 is based on a joint design by Intel and Microsoft – and is powered by the advanced audio capabilities of microQ technology.

QSound Lab's microQ technology includes an entire product suite, based upon its proprietary software-based audio engine, offering a state-of-the-art ringtone player, 3D positional audio and a range of digital effects capabilities – which provide rich, high definition audio experiences for consumer electronics and mobile device users worldwide. Additional microQ-enabled products from MiTAC and other consumer electronics leaders are expected later this year.

"Given our experience in developing soft audio solutions for Windows operating systems, working with MiTAC on its new product offerings was the perfect launching pad for microQ," stated David Gallagher, President and CEO of QSound Labs. "The new generation of processors for the mobile market provide a powerful platform around which we have leveraged cutting-edge technologies and proven expertise in rich, 3D audio."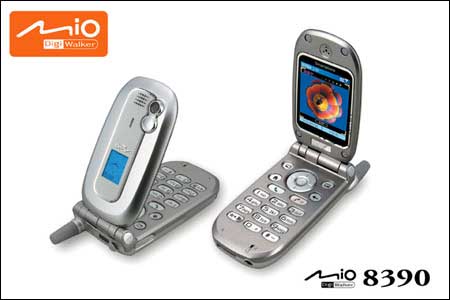 About the Mio 8390:
Integrating Microsoft's Windows Mobile 2003 operating system, the Mio 8390 offers all the features users expect from a state-of-the-art mobile phone -- including color screen, digital camera, video recording capability, 40-polyphony ring tones, and engaging games -- the Mio 8390 adds even more. For example, Mio's marvel offers a screen that can display 260,000 colors, support for MP3 files as ring tones, the latest Java MIDP 2.0 games with polyphonic sound and tactile feedback, an extra-big 2.2" screen, customizable interface skins, integrated MSN Messenger client, and super-large memory capacity. These features make the Mio 8390 the most richly featured next-generation smartphone on the market. More information can be found at www.justmio.com.
About microQ:
microQ is a compact, hardware-independent and highly efficient software audio engine providing functions such as polyphonic ringtones, video game sounds, music playback, digital effects and recording for portable applications, including Internet appliances, hand-held and mobile devices. A low-cost and flexible option for consumer electronics and mobile device manufacturers, MicroQ is inherently modular, scalable and portable. Its core components include a digital audio playback engine, a wavetable synthesis engine with a scalable sample set, and a multi-channel stereo mixer. Additionally, microQ offers a wide range of processes to control frequency response, dynamics and spatial enhancements, as well as full 3D positional audio.
About Mio Technology Corp.:
Mio Technology Corporation was established in 2004, with offices in Taiwan, the US, and Europe. Anticipating the emergence of mobile lifestyles and mobile commerce as key elements in the way we live, Mio Technology is devoting its efforts to the development of various enabling devices. It is chiefly focused on the manufacture and sales of Mio DigiWalker™-branded mobile communications products, such as smartphones, Pocket PCs, and handheld GPS devices.
About MiTAC International:
MiTAC International was founded in 1982 as a developer and manufacturer of desktop personal computers. The company gradually created three major product business units to serve as focal points for its development efforts. The New Media Business Division specializes in wireless communication products including Pocket PCs and smartphones. For further information about MiTAC International Corporation, please go to the web site www.mitac.com & www.justmio.com.


This release contains forward-looking statements within the meaning of the Private Securities Litigation Act of 1995 concerning, among other things, introduction of new microQ-enabled products from MiTAC, and the expectation of additional microQ-enabled products from MiTAC and other consumer electronics companies. Investors are cautioned that such forward-looking statements involve risk and uncertainties, which could cause actual results, performance or achievements of QSound, or industry results to differ materially from those reflected in the forward-looking statements. Such risks and uncertainties include, but are not limited to, risks associated with acceptance of microQ technology by manufacturers and consumers, additional licensing arrangements, continued growth of the mobile electronics market, dependence on intellectual property, rapid technological change, competition, general economic and business conditions, and other risks detailed from time to time in QSound's periodic reports filed with the Securities and Exchange Commission. Forward-looking statements are based on the current expectations, projections and opinions of QSound's management, and QSound undertakes no obligation to publicly release the results of any revisions to such forward-looking statements which may be made, for example to reflect events or circumstances after the date hereof or to reflect the occurrence of unanticipated events.