StudioQ™ Recording Facility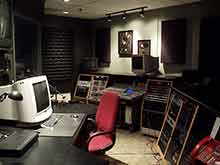 StudioQ™ is the research and development studio facility for QSound Labs. Located at the company's headquarters in Calgary, Canada, the studio is the heart of the company's in-house media production and R&D division. Primarily used for in-house projects, StudioQ has the capability to accommodate a wide variety of commercial clients and delivery formats.
The studio's design is centered on a Tascam TM-D8000 Digital Console and 24 MDM digital tracks consisting of 1-Tascam DA98 and 2-DA38 slaves. The primary editing platform is an eight-channel Digidesign Pro Tools™ system. The studio also incorporates a Whisperroom™ isolation booth for voice-over work and has integrated a full 5.1 surround environment using Dynaudio Acoustic and Yamaha monitors, all powered by Bryston amplifiers. The room is equipped with a healthy compliment of outboard processing gear, including a Lexicon 480L, TC Electronics M2000, Yamaha Rev5, and 2 Yamaha SPX90ii units.
StudioQ has been designed with an open architecture that allows QSound to quickly adapt to new and upcoming delivery formats. The studio is equipped to support the many Internet streaming formats as well as digital bitstream multichannel encoding such as AC3. Audio enhancement on the Internet is not a new venue for QSound. The company pioneered the first 3D streaming audio enhancement products for the Internet with the introduction of the iQ™ processing family in 1997.
More about StudioQ: